Enterprise Profile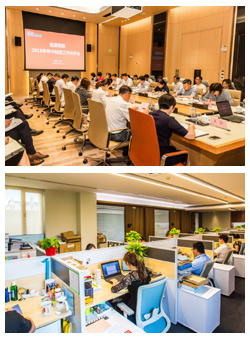 Established in 1998, after twenty years of development, Mingyuan Holdings Group Co., Ltd. has developed into a comprehensive group company, integrated with petrochemical production, petrochemical trade, inorganic chemicals, fine chemicals, energy and electricity, medical service, port logistics, real estate development and information technology. One after another, it has got the qualification for the use of imported crude oil approved by the National Development and Reform Commission, and the crude oil import qualification for non-state trade approved and issued by the Ministry of Commerce, as well as the qualification of wholesale and storage of product oil and fuel oil issued by the Ministry of Commerce. Mingyuan Holdings Group is also the vice president unit of the Chinese Small and Medium Enterprise Association and the China Petroleum Circulation Association. The Group has honorably ranked among 2017 Chinese Top 500 Manufacturing Enterprises, Top 100 in Liaoning Province and Top 100 Enterprises of Chinese petrochemical Industry. It has been granted with many honorable titles, such as the advanced private enterprise of national employment and social security, provincial and city model private enterprise of harmonious labor relationship, and so on.
Mingyuan Holdings Group makes it a mission to converge the global energy and lead a green future. The enterprise values are being customer focused, hard-working staff as foundation and taking social responsibilities. Based on the development strategy of keeping the foothold in the homeland and going overseas, and integration between industry and finance, Mingyuan Holdings Group implements feasible development plans to strengthen and optimize its leading industry of petrochemical production.
Based on the existing first phase petrochemical project and the second phase fine chemical project in Songmu Island as well as the light hydrocarbon comprehensive utilization project in Xizhong Island, and driven by science and technology and excellence, Mingyuan Group has been steadily strengthening the petrochemical business. Based on the investment projects in Xizhong Island Petrochemical Park and overseas, and supported by its core competence, it quickly develops the business of natural gas supply and hydrocarbon making from natural gas. And at the same time actively fosters other emerging business such as trade.
While continuously tamping the foundation of domestic business, Mingyuan Group will continue to promote business internationalization, closely following the globalization wave of energy and chemical industry and the national Belt and Road Initiative, Mingyuan Group will keep seeking multilevel opportunities for co-operations in resources, technology and trade in the Middle East, Southeast Asia, Europe, America, etc. With great efforts in the next five years, Mingyuan Group will initially build up its business pattern of petrochemical business as the core, and synchronously developing light hydrocarbon and trade business, by constant exploring and innovation, Mingyuan Holdings Group will develop into a first-class enterprise with national influence and international competitiveness in the global market.